Brooke's Research into Reproductions of A-2 Flight Jackets:
Which Flight Jacket Should I buy?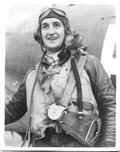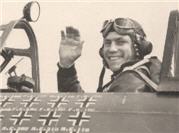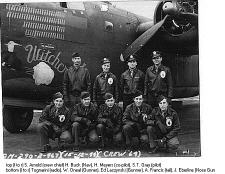 Top three US ETO fighter pilots in their A-2's: Francis Gabreski (28 kills), Robert S. Johnson (27 kills), and George Preddy (26.8 kills).
A crew of the famous B-24 Witchcraft in their A-2's: (top row) S. Arnold, H. Buck, H. Meyers, S. T. Gray,
(bottom row) Tognarini, W. Oneal, E. Laczynski, A. Francis, J. Eberline.
The A-2 flight jacket was an offical jacket of USAAF fighter pilots, bomber crews, and many ground crew in WWII. It's official designation was "Jacket, Pilot's (summer)."
Originals can be expensive (into the multiple thousands of US dollars). Reproductions vary in cost from low for leather jackets that are called "flight jackets" but that don't get any details right and are of poorer quality, to US$250-US$500 for medium-cost reproductions or even up to US$1000 for for high-cost reproductions. There are many manufacturers who talk about their jackets being authentic but who produce totally unauthentic A-2's.
This web site (Marc D. Weinshenker's A-2 page) gives lots of detail on original A-2 jackets and some information on various reproductions: http://www.acmedepot.com/a2jacket/index.shtml.
Based on my research, it seems the best level of authenticity for the price is from U.S. Authentic Manufacturing Co. at http://www.flightjacket.com/. Their A-2's start at US$269 and seem to be more authentic in detail than those from Avirex or Cooper. Here is a FAQ that U.S. Authentic put together that gives indication of their level of authenticity: http://www.flightjacket.com/store/faq.aspx. Here is a page of reviews, including those from experts discussing the high level of authenticity and quality of the U.S. Authentic A2: http://www.flightjacket.com/store/peopletalkingA2.htm.
A brief summary of the more-major authentic A-2 features from Marc D. Weinshenker's A-2 page is as follows.
"While the official specification called for horsehide, and while most jackets probably were so made, there was a notable fraction of A-2's made of goatskin and perhaps other hides such as steer." Leather is not authentic.
The color was specified as "seal brown," not "russet brown," but the seal-brown color used in the originals varied a lot. "Overall, jackets can be seen to vary from a light almost tan color to a dark chocolate shade."
"The basic components of the leather shell of an A-2 jacket consist of one piece of leather for the back, one piece for each of the left and right front panels, and two pieces for each sleeve running the length of the sleeve."
The shoulder seams should not be too far forward off the shoulder, and the epaulets should be centered on top of the shoulder. Many reproductions get this wrong.
The pockets should have only top entry, not side, and there are no additional internal pockets. The pockets should be spaced a good distance from the zipper.
Interior lining was silk only in very early A-2's, with the majority of A-2's being produced with cotton liners.
The waistband and wristbands are knit wool.
Authentic fit was more like a suit jacket, not baggy as is common today with jackets.
The A-2 was not the jacket worn by US Navy and Marine pilots. Theirs was the G-1 jacket (which U.S. Authentic Manufacturing Co. also produces).
The U.S. Authentic A-2
Here is a list of features discussed on Marc D. Weinshenker's A-2 page and how, in my judgement, the A-2 from U.S. Authentic Manufacturing Co. compares. WWII A-2's were made by many manufacturers and there was variation. For example, color (they were all supposed to be "seal brown") varied from light, almost tan, to dark chocolate color; leather was mostly horsehide, but many A-2's were made of goatskin and perhasp also steerhide; and pocket-flap shape, collar shape, and design of snaps (ring or ball stud), varied within limits from manufacturer to manufacturer. In the discussion below, I will call it "correct," "acceptable," or "OK" if it fits within the ranges of variation I've seen described in WWII A-2's. U.S. Authentic does an impressive job on this list of features.
goatskin -- OK
color -- OK
1-piece leather back -- OK
1-piece left and right front -- OK
2-piece sleeve -- OK
epaulet/shoulder seam so that epaulet is on top of shoulder -- OK
inset sleeve seam aligned with body side seam -- OK
brown thread -- OK
collar top 1 piece -- OK
collar bottom 2 peices -- OK
collar stand -- OK
collar shape -- OK
pocket-flap shape -- OK
pocket shape -- OK
pocket stitching reinforcement style -- OK
pocket snap reinforcement style -- OK
label in pocket -- not present, but presumably not all A-2's had that
pocket placement -- OK
epaulet and stitching -- OK
cotton lining -- OK
lining color -- OK
wool wristbands and style -- OK
spec label placement and info -- OK
hangar style -- OK
Talon zipper -- OK
Talon back "MADE IN U.S.A. TALON" -- not present, but not available anymore on real Talon brand zippers
snap style -- OK
throat clasp -- OK
ventilation grommets -- OK
inspector's stamp -- OK
Army Air Corps stamp -- OK
fit -- OK
Below are pictures of my U.S. Authetic A-2. I'll discuss features of the jacket compared to WWII A-2's as shown on Marc D. Weinshenker's A-2 page.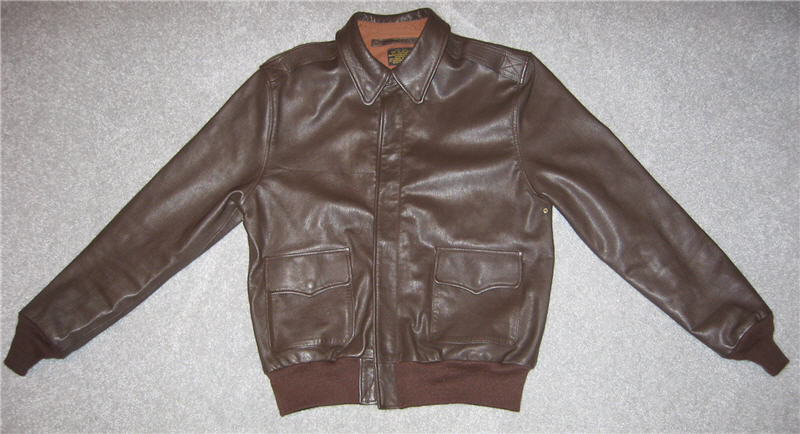 The front of the jacket. Color is within acceptable range, leather is goatskin, left and right front are each one piece of leather, wrist and waist bands are knit wool, pocket and collar shapes are in range -- all correct so far.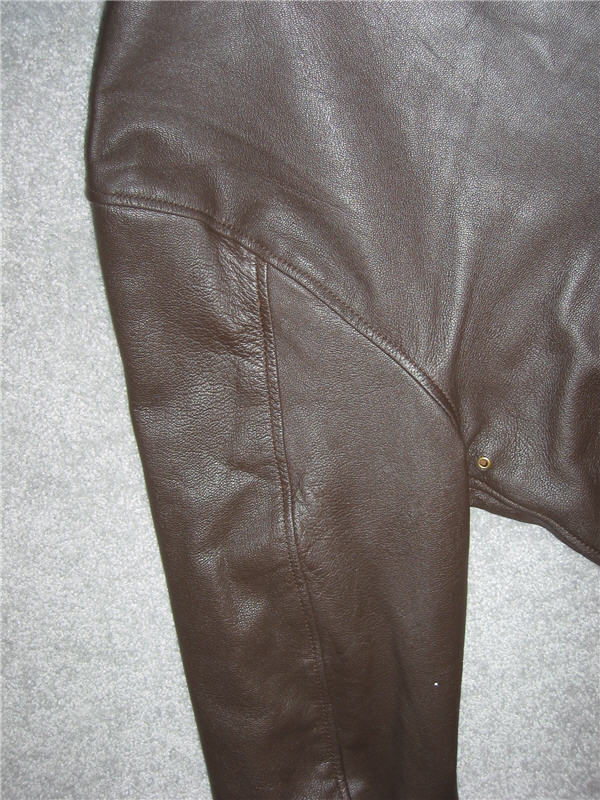 The sleeve seam. The sleeve contstruction and stitching is correct. There are two ventilation grommets under the arms -- like on a Bronco A-2.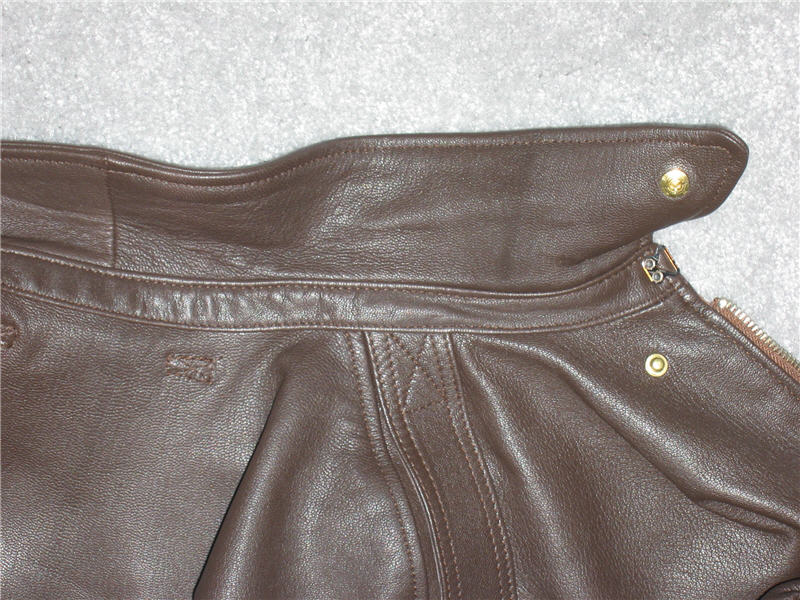 The outside of the collar. Collar construction (two pieces and collar stand) and stitching are correct. The snaps (ball stud) seem correct -- sort of like collar snaps on Rough Wear A-2's. The attachment for the collar clasp seems acceptable.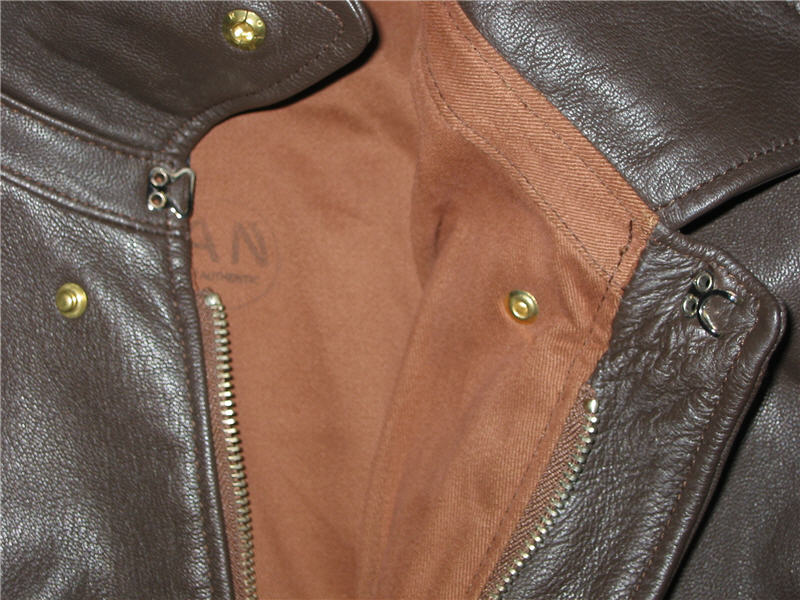 The inside of the collar. The collar clasp is correct. Snap backs are uncovered, like on a 18246 A-2.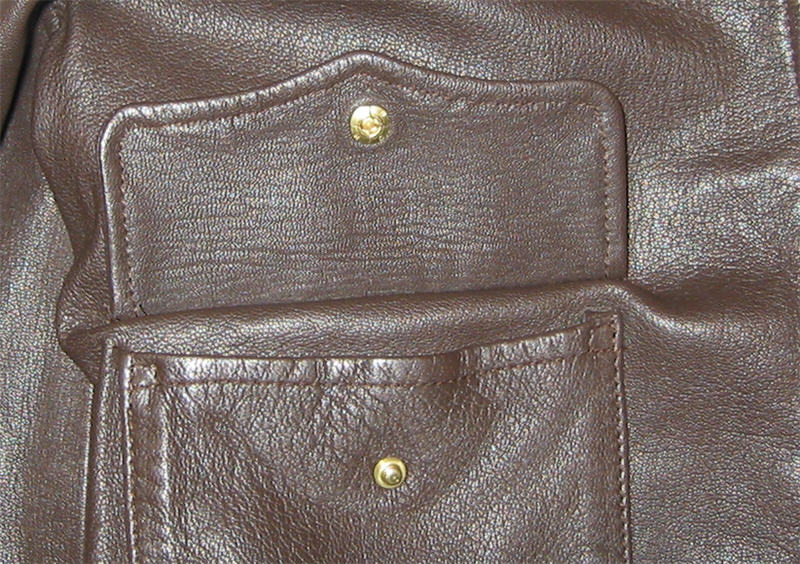 Pocket stitching. Stitching and reinforcement (at upper left and right corners) seem correct.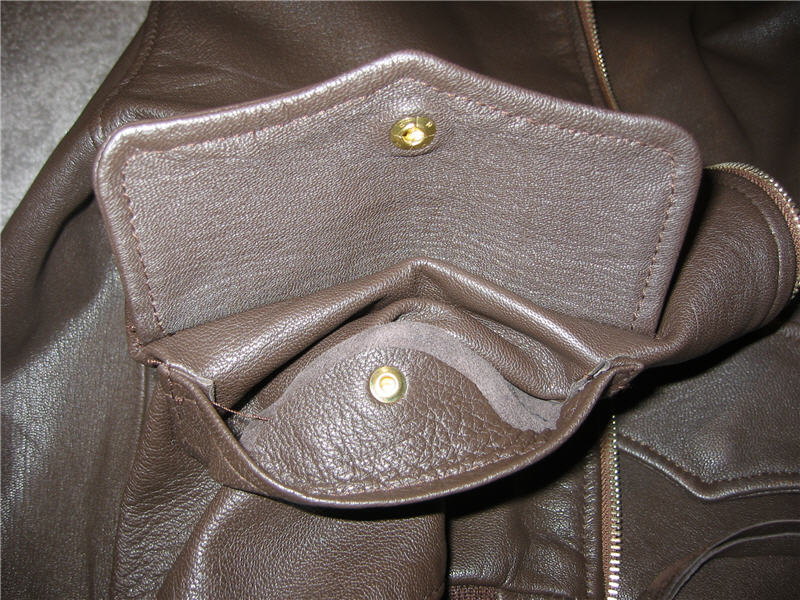 The inside of the pocket. The rounded pocket tongue is correct -- like on a Bronco A-2. There is no label in the lining of the pocket -- many A-2's had that, but I'm not sure if all did.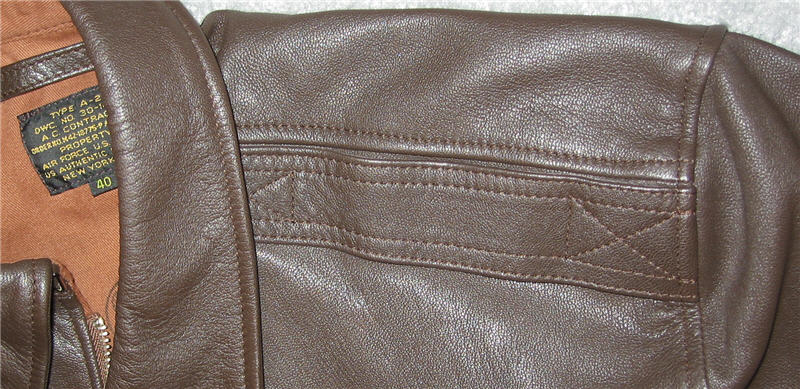 A close-up of an epaulet. The stitching and shape are correct -- it looks like the epaulet on a Perry A-2.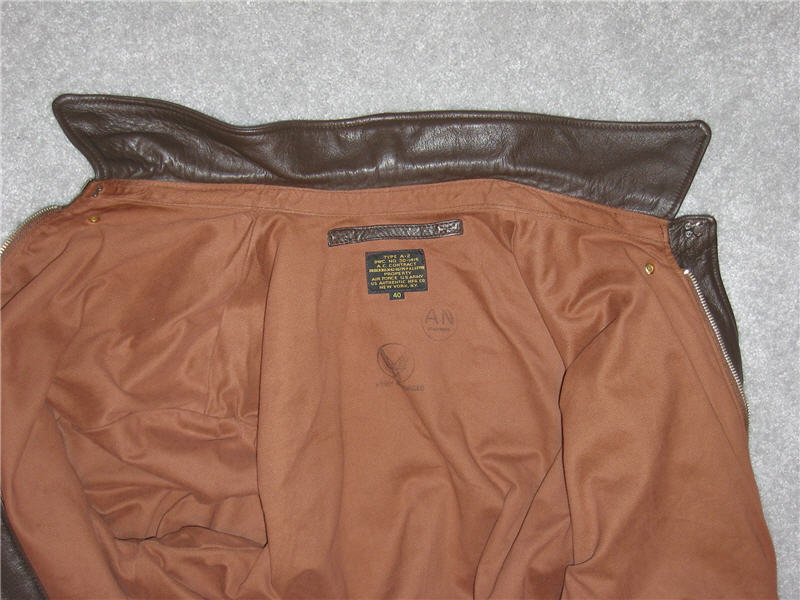 The jacket lining. The color is correct, and the material is cotton, which is correct.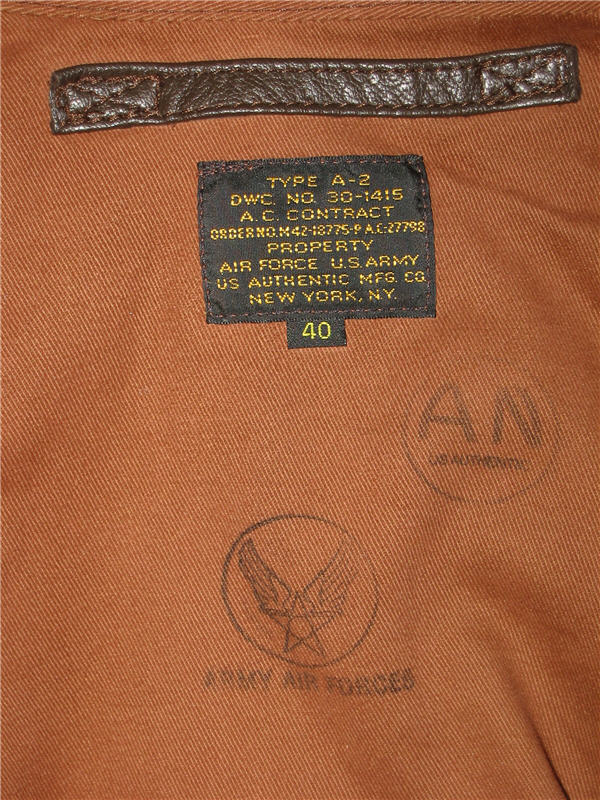 The spec label, stamps, and leather hangar. These are of correct format and look. The leather hangar and its stitching are correct.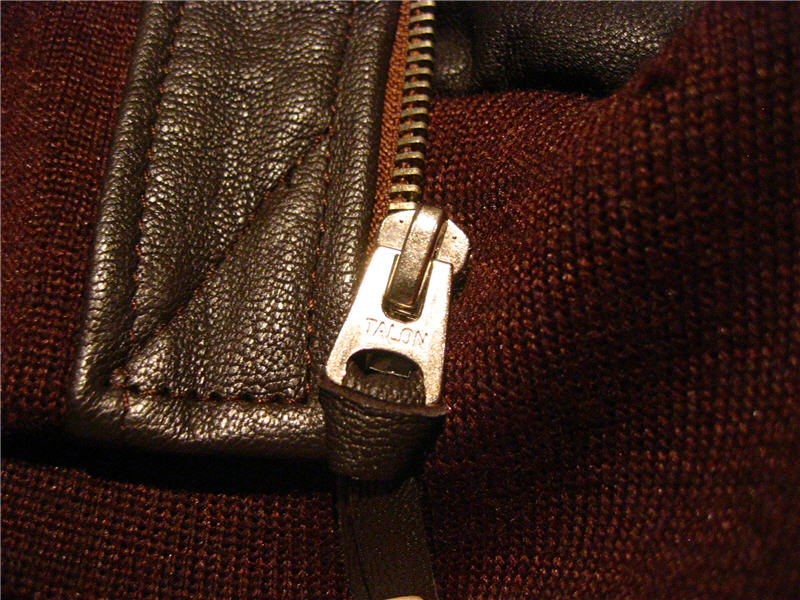 The zipper. The zipper is a Talon zipper -- the same manufacturer as on many WWII A-2's. I was impressed by this. The zipper is nickel plated (silvery), not brass, which is correct. The zipper does not say "MADE IN U.S.A. TALON" on the back, as that is not present on real Talon brand zippers anymore. The reinforcement stitching to the left of the zipper is correct.
Books About the A2
Here are some books about the A2 with pictures of WWII A2's.
Me and My A2
I am extremely happy with my U.S. Authentic A2. The quality, fit, and adherence to historical detail are wonderful. I love this jacket!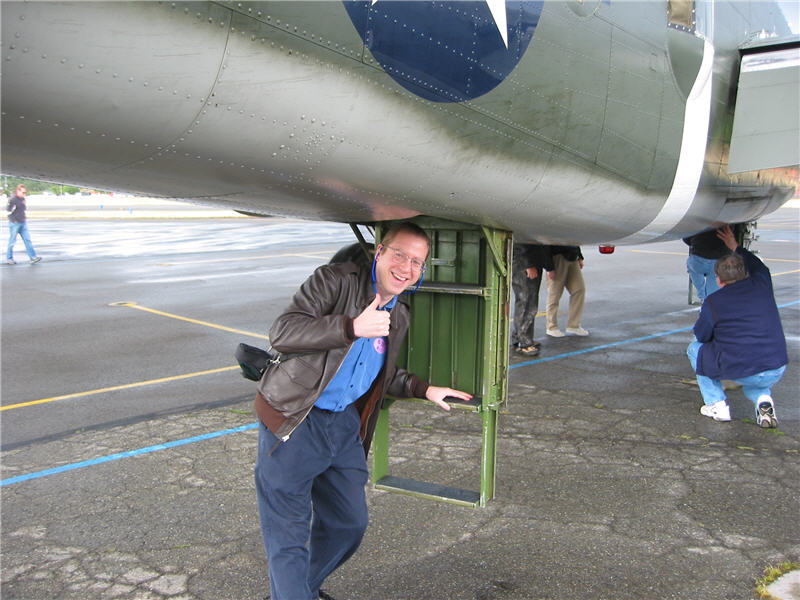 Me and my A2 boarding a B-25J Mitchell bomber for a flight. Click here for a full pictorial of the flight.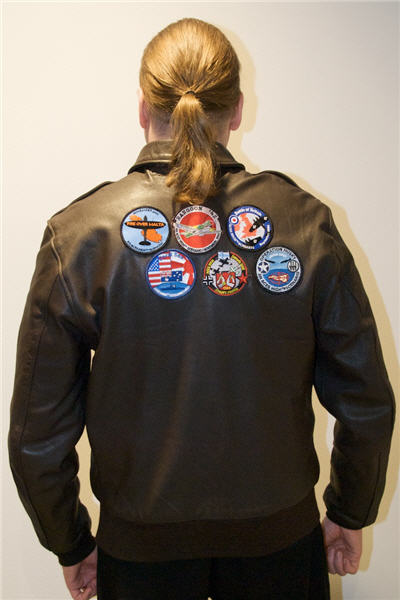 I put my patches from Aces High scenarios on the back.
---
by Brooke P. Anderson
e-mail: brooke@electraforge.com

Click here to go back to my main gaming page.